Welcome to Bedford Skating Club!
Bedford Skating Club provides the highest quality programs in a welcoming environment to everyone who want to skate: promoting fitness and a life-long passion for our sport.
Come Skate With Us!
SKATING SUCCESS MASTER CLASSES 2019!
Join Ben & Jadene Ferreira for another Master Class weekend! Register under the "registration" tab now!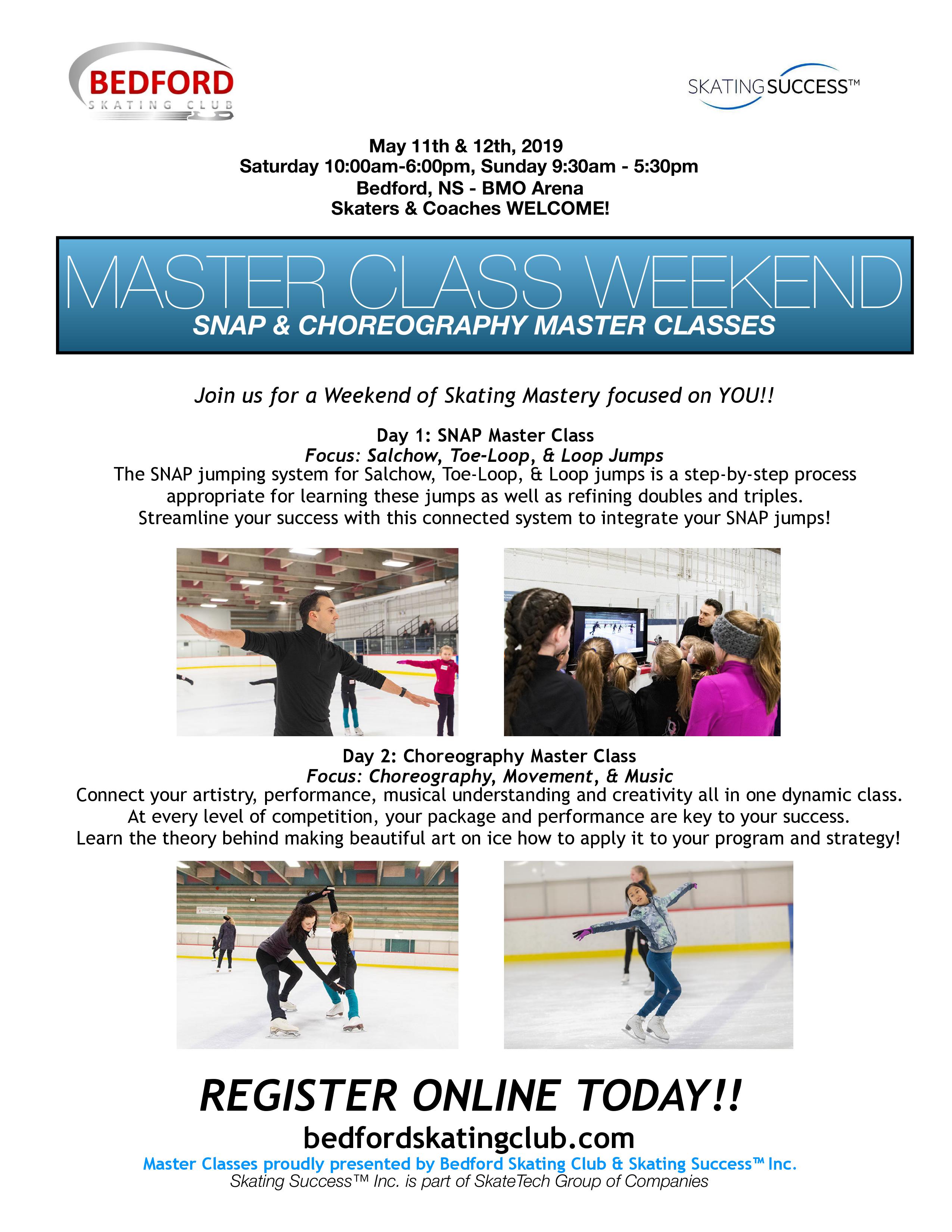 2018/2019 SCHEDULE
CanSkate (starting October)
Wednesday 5:55-6:40pm
Thursday 6:35-7:20pm
Saturday #1 12:15-1:00pm
Saturday # 2 1:00-1:45pm
STARSkate Development (starting September)
Wednesday 5:00-5:55pm
Saturday1:15-1:45pm off-ice;1:55-2:50pm on-ice
0-3 test points
Thursday 4-5:20pm on-ice;5:30-6:15pm off-ice
Saturday 10:00-11:15am on-ice; 11:30am-12pm off-ice

4-10 test points
Thursday 4:15-4:45pm off-ice; 5:00-6:35pm on-ice
Saturday 10:00-10:30am off-ice; 10:45am-12:15pm on-ice
Saturday off-ice dance @ Treena's Dance Studio 2:30-3:30pm
11+ test points
Monday 6:00-7:50pm
Wednesday 6:50-8:20pm
Pending registration numbers - Thursday 4:15-4:45pm off-ice; 5:00-6:35pm on-ice
Pending registration numbers - Saturday 10:00-10:30am off-ice; 10:45am-12:15pm on-ice
Saturday off-ice dance @ Treena's Dance Studio 2:30-3:30pm
Metro Masters (intermediate/advanced adults/teens)
Wednesday 8:30-9:50pm
Registration is first come first serve so register early to avoid disappointment

All sessions will be held at the LeBrun Arena

StarSkate, StarSkate Development and Metro Masters start in September 2017 and go to the end of March 2018

CanSkate starts in October 2017 and goes to mid March 2018

Payment can be made in cash, cheque or credit card (Visa, Visa Debit and MasterCard)