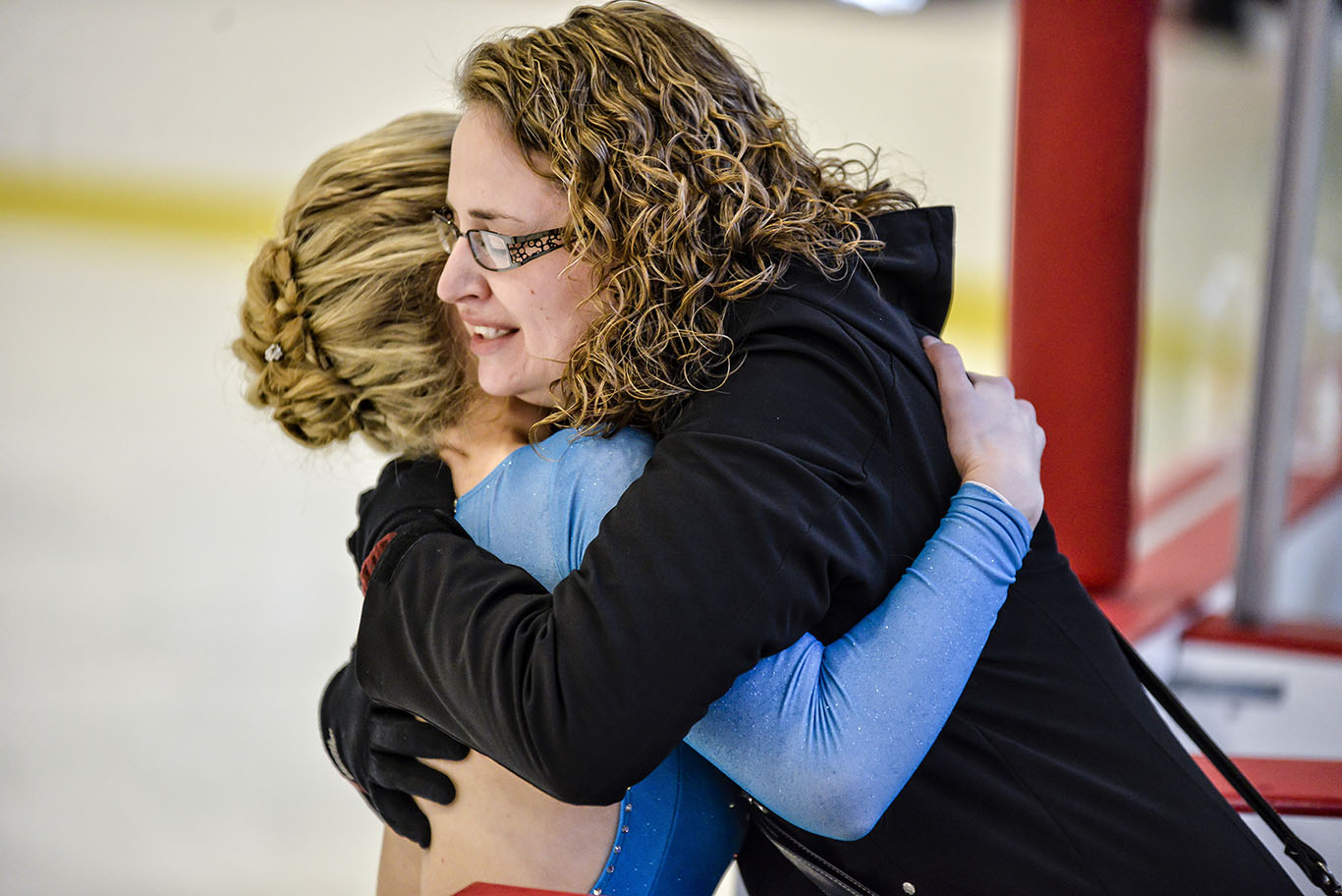 Tests and Competitions
A skater should skate at least 2 days a week if they want to compete or take tests
Test Day - How does it work?
Unlike the CanSkate program, there are special days set aside for skaters to take tests. There is at least one test session for each school (i.e. fall/winter, spring and summer) with the longer schools often having more than one. There are separate tests for each level:
free skate
dance
skating skills
interpretive skating
This is the time set aside for skaters who have mastered certain skills to show evaluators and adjudicators that they have learned the required skills for progression to the next level. The test itself consists of specific moves and elements required for the particular level being tested. Coaches submit test lists in advance of test days when they feel a skater is ready to try a particular test. A fee is charged for each test that goes back to Skate Canada, our governing Association. Once the number of skaters for each test is known, the Test Chairman can put the schedule together. The schedule is available approximately one week before the test session starts. Test skaters should arrive at the rink at least an hour before the scheduled test time as tests can run early. Skaters need time to prepare, as most skaters establish a routine they use before taking a test. Costumes and skates should be carefully checked before leaving home to ensure top condition, especially laces. It is not recommended that you sharpen skates immediately prior to taking a test. It is a good idea to have a few practice sessions on newly sharpened skates before testing. Trained evaluators and adjudicators volunteer their time to come and evaluate our skaters. Test scores are categorized as:
excellent
good
satisfactory
needs improvement
for the particular level being tested. The skater needs to obtain a certain number of satisfactory or better rankings to successfully complete the test. Remember, not meeting the requirement does not mean failure. Everyone has good days and bad days. There is no limit to the number of times a skater can take a particular test however skaters must complete a group or level before they can move on to take a test from the next group or level.
Competitions - What should I expect?
Skating at competitions exposes the skater to yet another side of figure skating. Normally the coach will recommend that a skater take part in a competition when they feel that the skater is ready to participate. Competitions are held locally as well as out of town. There are approximately 4 competitions per year that a skater with a solo can enter. Coaches will charge a fee for the time spent with the skater at the competition. For out of town competitions, generally, the coaches' travel expenses will be shared amongst their skaters competing. It is recommended you discuss specifics with your coach prior to entering the competition. An entry form (either the coach or the club office will have a supply) will need to be completed and the fee enclosed and forwarded to the club holding the competition by a specified date; late entries carry a monetary penalty. If the competition requires travel time, it is wise to make arrangements for accommodation at a local motel/hotel. Actual skate times will be confirmed to you either in writing or on the competition web site approximately 1-2 weeks prior to the competition. Skaters should arrive one hour prior to skate time to ensure that they have registered, adjusted costumes and make-up, and have sufficient preparation time. If there are many skaters competing at the same level they are divided into ―flights. There is a draw to determine the starting order. Some competitions will choose place winners following the one flight while other competitions choose top skaters in each flight to advance to a final. The majority of skaters love the air of competition, but it may not be for everyone. Remember that competitions are optional – if your child is not interested in competing it is not required. Competitions offer a chance to meet, compete, and make friends with other skaters from different clubs. In spite of competing against each other, skaters are always supportive of each other's efforts and always behave in a sportsmanlike fashion.